Spring is approaching quickly, and you may be in the need for a closet revamp.
First, start with what's hanging. Place clothes on their hangers in two piles—one for short items, like shirts, and the other for long items, like coats and pants hung full length by their cuffs or waistband. Measure the height of each pile to get the desired lengths for short- and long-item rods. Next, arrange your clothes that could be folded in 10-inch-high stack; each stack needs 14 inches of shelf length. The ideal reach-in closet is 6 to 8 feet wide and 24 to 30 inches deep. Standard double doors are best, assuming there's room to swing them open.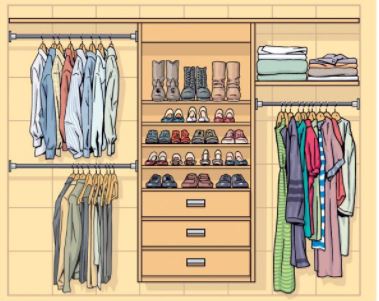 Now, to start planning the interior, beginning with the left wall; measure everything to a T. Sketch a to-scale layout on graph paper, with each wall's width and height as well as details. Make note of sloped ceilings, knee walls, and other oddities. Start with storage for your shoes; your best bet is open shelves without dividers. To squeeze in an extra pair, alternate toes-facing-out and toes-facing-in. Sketch in rods for shorter items, making them as wide as your wardrobe warrants, and a higher rod for longer items. Draw shelves 4 inches above the rods plus a high shelf for less-used items, and mark their depths.
For walls and plaster that's in poor shape, line the closet with ¾-inch hardwood plywood and screw it to the studs. Now you are able to attach rods and shelves wherever you want.
No room for swing-open doors? Avoid sliders and invest in sturdy, solid-core or solid-wood bifolds and heavy-duty fittings. Lightweight doors with bad fittings wobble and constantly fall off their tracks. Decide where you want your off-season items, ideally in the attic or a dry corner of the basement. If you have spare room on the same floor, consider a clothes rack that can be wheeled to the closet when it's time for a swap-out. If this isn't an option, store your clothing pieces in bins and totes; be sure to label them so that you have easy access to something you need, year-round.