The up and coming kitchen island trend is to have double islands instead of one long island. One of the biggest advantages of double islands is that it can provide personalized multipurpose space, which include space for dining, storage, wine racks, sinks, cooktops, warming drawers, and other appliances.
Double islands designs include: 
       1. T- shaped islands: One double island option for a smaller kitchen is T- shaped island. It is a perpendicular layout for two small islands. For example, the top part of the island is the working stations, while the stem serves as a seating area. Those two parts can connect together or a few feet away from each other depending on the specific situations.
       2. Parallel islands: If you have a large, square kitchen, two coordinating parallel islands would be a great choice for you. For example, one of the islands is a preparation station, and the other one can be a sitting island. It allows for uninterrupted conversation between people working and sitting. The parallel islands can also be the focal point of your kitchen, with countertops flowing over the edge just like a waterfall.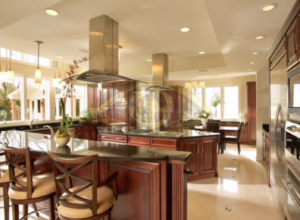 3. Adjacent islands: Two side-by-side islands can be a great choice if your kitchen has a long, rectangular shape. Instead of having one long island, you break it into two smaller ones. The design helps to increase the space in the kitchen.
       4. Wrap-around islands: The wrap-around islands can be L-shaped or a circle. It has a smaller working island in the middle for food preparation. It provides the optimal seating arrangement, which can accommodate a large number of people. In addition, it can also work as a separation between living space and kitchen.
       5. Mismatched islands: If you are a fan of a more modern style, you may want to consider double islands that don't match. For example, the difference between islands can be colors, materials, or shapes.
Color and Technology: 
In fact, besides having two islands instead of one, people also care about the color of the island and the technological improvements that can be brought into kitchen renovations and remodeling: 
       1. Prioritizing colors: colorful kitchen islands can stand out and add some fun to the kitchen design. In addition, adding in bold dashes of color can make your space come alive. For example, some bold decorating colors are fresh greens, cool blues, energetic yellows, or punchy oranges.
       2. Hand-free technological innovations: smart dishwashers, ovens and refrigerators that respond to voice commands are something that would make life a lot easier. In addition, smart kitchen technology like Amazon Alexa, Google Assist, Apple's Watch and Siri are great assistants for individuals working in the kitchen, which can help to improve efficiency and convenience.