Being a new parent in your home may seem frightening – and possibly seem unsafe for your newborn or toddler. Here are some childproofing tips by age!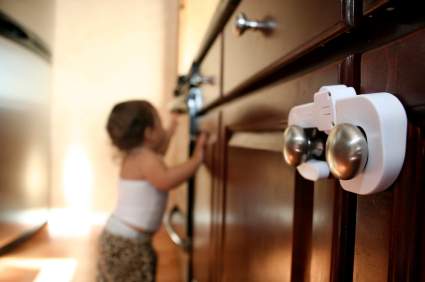 Newborn: At this stage, your baby starts to reflexively bring their hands to their mouth, so begin thinking about choking hazards from an early age.
Make sure your baby's crib adheres to current safety standards as specified by the US Consumer Product Safety Commission
Place baby monitors and their electrical cords at least three feet away from their crib
Install smoke alarms and carbon monoxide detectors
Anchor TVs and furniture, such as dressers and bookcases
Install a fence around any pool or hot tub
Keep your baby's crib free of pillows, bumpers, stuffed animals and blankets
Crawling: Your crawling baby will grab onto any and everything they can get their hands on. Being as curious as they are, make sure they can only access areas free of danger.
Cover sharp edges on furniture and corners
Remove nightlights in any lower outlets your baby can reach
Cover electrical outlets lower than counter height and select products that are not choking hazards
Keep household cleaners and medicines up high
Ensure stoves are anchored
Pack up and put away valuables
Toddler: Now that your not-so-little baby is walking, running and climbing, it is best to have safety gates installed early so they know which rooms are off-limits. Also remember to give clear reminders of safety, as they cannot remember all the rules at this age.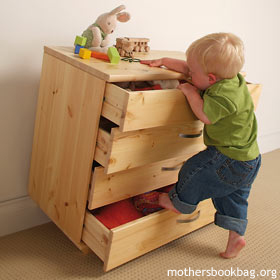 Be careful with chair and step stools
Install knob covers
Secure doors to off-limit areas, such as cellars and garages
Keep household medications in child resistant containers and in a high cabinet
Create a space out of reach of children for small electronic devices to charge and rest
Place hot foods and liquids on the center of tables and counter tops, not edges, table cloths or placemats