The pace of business is so quick these days that it can be easy to get caught up in the day to day and not always recognize when it is time to make an upgrade to your commercial space.  Your New York warehouse, retail location or office building are often the first impressions that a potential customer will have of your business. It is important to project an image that is both professional and reflects your brand.
Other reasons might be water damaged ceilings tiles and drywall, carpets that are worn out and of course poor lighting conditions. As a commercial renovation company we also specialize in advising our clients where the best spent dollars may create the biggest impact or which renovation materials in your commercial space might be substituted for similar quality but better price alternatives. Depending on the business and industry there might be newer ecofriendly materials that a renovation contractor like Golden I Construction may also recommend for better integration for the clients renovation needs.
Most offices today are looking to make their New York commercial office space more productive by expanding the amount of employees that can be placed inside. These type of commercial renovations in New York require for the space to be opened up and in lieu of windows for every employee to have close proximity to, having larger glass walls so that natural day light can travel inside the commercial space and reach a larger amount of employees. More natural daylight will have beneficial effects such as more productivity and better moods from the coworkers and of course a cost saving on the electricity bill.
The Golden I Construction are experienced in performing a wide variety of commercial construction services and renovations and will be happy to help you at every stage of the process from design to construction to finishing. Our past experience comes from an array of industries and sectors. Some of them include schools, offices, medical centers, warehouses and residential offices. There is no space too small that we would not want to hear from you, about the type of commercial renovations you would like to have Golden I Construction as your preferred commercial contractor.
Golden I Construction offers the following commercial renovation services:
1. Retail Store Renovations, Fit-outs and base building construction.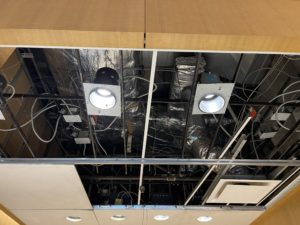 The Golden I Construction  has the required expertise and experience to undertake renovations for your retail stores. We also provide fit-outs that will enable your retail store to stand out. We work closely with any franchise requirements as well as specific designers criteria to get your commercial business or store front the desired post commercial renovation look.
Since we understand that customers are attracted by their first impression of your store, it makes us committed to ensuring your store becomes a place where your customers are excited to come to and possibly recommend to others. The type of materials, display options, lighting, open space, colors scheme and layout in your commercial unit will impact the way your staff performs and the customer invests their time and money to clients goods and services.
2. Medical/ Dental Offices
If you want to enhance your medical and dental practice, let Golden I create a warm, comfortable and hygienic workspace for you. As one of the leading New York commercial renovation companies you can expect a turnkey renovation. From design, obtaining the required city permits, inspections and of course the commercial construction, The Golden I has got you covered for the renovation in your business.
The importance of ambiance in the dentist or doctor's office cannot be under-estimated. We know that a health office will welcome many anxiety-ridden patients and that's why we ensure to create a soothing, inviting, and pleasant space making sure your clients will maintain regular visits. As a medical practitioner you need to upgrade your commercial office space to have updated aesthetics. Fresh paint which welcomes the clients, easy to clean smooth and modern looking ceiling tiles, easy to clean and maintain LVT (Luxury Vinyl Flooring) and commercial vinyl baseboards make your Toronto office much more welcoming and hygienic. The exchange of lighting to day light LED light fixtures will make everyone's mood happier and the office atmosphere more efficient. The days where the old commercial space was most basic are over, after your commercial renovation, you can expect a much more energetic and successful work space.
3. Manufacturing and Laboratories
The Golden I is also able to do testing laboratory renovations to create modern and flexible 'social buildings' for research, experimentation, and team-based work. We have designers who are willing and able to create spaces that will support different research teams.
Whether you want a design that is open, closed or one with both styles, we will work round-the-clock to ensure our design fits every need that you have. Our renovations include creating spaces for fume hoods, emergency eyewash and shower safety equipment, compressed gas cylinders, work areas, storage cabinets, storage for hazardous materials, area for radioactive material use, and any other space that you might require.
4. Franchise Stores
One thing that will definitely increase sales for your franchise stores is making them have a fresher, more updated look. The Golden I offers franchise stores renovations, creating spaces that will increase traffic while doing it in a very efficient manner. To boot that, we tailor-make every renovation project to meet the client's needs and budget.
As we know timelines are very important for any brand, we have a team that will put in extra work to ensure your vision materializes in the shortest time possible. The Golden I franchise store renovations guarantee to rejuvenate your business and give it the attention it deserves.
5. Pharmacies
A modern pharmacy should be flexible, contemporary, and highly accessible. We offer to work on your current space to create a sanitary, standard, and neat area that will keep your customers coming back.
For this type of renovation, the planning phase takes more time so that we ensure that every detail is in check and nothing is left out. This includes carefully outlining the layout, design, lighting systems, shelving, and prescriptions/dispensing areas. Items that are high on our discussion list are how to make your commercial space more secure against crime, hygienic to meet the cleanliest standards and functional designed so that the customers don't waste time in line ups looking for medicine or help from your staff.
The Golden I has the experts required to create a space that will pass all sanitation and inspection tests while making it efficient for your customers and staff to operate.
6. OFFICE INTERIORS
We also specialize in office interior renovations whereby we come up with awesome spaces that rejuvenate and motivate your staff. The ambiance of an office is paramount if you want your employees to reach their full potential.
As a company there are a lot of reasons why you may want to renovate your commercial office space. Here is a top 5 list of reasons to do the office construction project with The Golden I as your trusted contractor.
Being in a business setting always requires changes. Your office could be just tired and outdated in desperate need of a commercial renovation or just a few key items to be updated to bring it to a timeless contemporary look. We can help with advising which features work best for your needs based on the overall budget you had put towards the construction. Also, as a business owner you may be expanding into untapped market or having to open a second, third, fourth locations in a new sales territory or geographical location. The Golden I  want to have your business up and running as fast as possible so there are not costly delays or extra overhead expenses you need to pay for when the construction project goes past the timelines and a set budget. As an experienced contractor we provide a line item renovations estimate where as a client you can pick and choose a la carte the items which meet your commercial renovation budget and others which can be removed.
As the technology is actively integrated into everyday business world with virtual simulation, video conferences, remote workstations, and multi user collaboration options the need for closed off offices with multi walls and cubicles shifts to a more open and welcoming work environment. New York being a major business hub is not falling behind in this direction. As a leading office renovation contractor in the city of New York, The Golden I understand these new commercial industries wants and needs and comes prepared with a variety of ideas. Tempered glass walls, glass doors and simple but sleek glass windows with aluminum channels create more space yet bring the needed privacy for the board rooms and managerial offices. Redesigned floorplan layout of the work stations combined with new electrical feeds through the floor create a safe multi office desk environment without any tripping hazards.
With businesses expanding their portfolio of good or services offered new requirement may be need. These could be more esthetic from lighting and durable flooring, to more building envelope changes such as led infused drywall, extra roof top HVAC units for ventilation or a higher power needed for forklifts, electric cars and specialized equipment. These are just the most common request that a commercial renovation company may see in the client's requests. Other items which we included were wall with metal mesh for security, bulletproof glass, completely acclimatized area to store sensible wood guitar bases and our favorite a completely waterproof room chamber for submersible spa relaxation business. The idea is that we are a commercial construction company need to pay attention to what our clients need, following with a design + build approach.
Larger companies with lots of office employees are discovering the need to be more energy efficient with green products and materials. These environmentally friendly products make the companies mission statement align with the planets sustainability. Other commercial contractors in New York  might not take these type of request seriously but Golden I understands the importance of such corporate cultures. Materials and finishes are researched and supplied to the client for final review. These include flooring products, trim, furniture and even paint.
Manufacturing companies and head offices need to maintain a level of cleanliness for all their employees' safety. Old carpets, moldy change rooms, dust ridden suspended ceilings are just some of the items we see daily during our pre construction meetings. These and similar items cause respiratory illnesses, allergies and overall health issues. New materials that we recommend are easy to clean and maintain such as vinyl flooring which is completely waterproof and non porous.  Considering the global COVID19 pandemic ongoing sanitation and their employee's health concerns is definitely a large issue why companies would consider starting their commercial renovations.
Once we understand your reasons for undertaking a renovation we are able to customize a project that will meet all your needs. The experience that we possess enables us to work with all kinds of spaces, with the result being an area that delights the client and everyone who will work in it.
7. Design + Build Commercial Construction
This involves undertaking a New York commercial construction development from the ground up to completion. If you decide that you want a new building for your expanding business, we at Golden I are offering you a service that you will love. When you come to us, we will customize a building that will meet your company needs in terms of capacity, machinery, workflow, budget etc.
This is a typical Design + Build strategy. Our architectural design and engineering firm will bring your requirements and dreams to life. After several revisions of the floorplans we will do the permit submissions to the city in order to obtain the building permits. A Golden I representative would liaison with the city staff to clear any issues with zoning, usage, heritage and conservation departments. Once the building permits are cleared we are ready to move forward with the client's commercial construction project. This New York construction can be done in phases or scheduled to be completed from start to finish as a "turnkey" venture.
For any more details or inquiries on your future commercial construction contact Golden I today and we will be ready to provide you with the information that you need.
Consultation Process
The first step for your commercial renovation is the consultation process. Our talented and creative team of designers work with you to make sure that the end design is right for your business and your brand.
Often our commercial clients are focused only on what the inside of the building will look like, but remember that if customers are visiting your location, the outside of the building is important too, as this is the first thing that they will see.
Have you ever noticed how when a new building is being constructed, you sometimes are able to recognize exactly what business it is – your favorite coffee shop for example – without even seeing a sign? That is because these businesses have done such a good job with their brand that even the exterior of their building becomes part of that brand.
The consultation is a very important step in determine how the end project will turn out to be. Color association, fire resistant materials, distance of travel, proper lighting and HVAC controls are some of the detailed consideration our team has to research to make sure your brand is recognized and your budget can support.
Construction and Renovation
Once we have worked with you to develop a design that meets your needs and budgets, our team of renovators gets to work to help your vision become a reality. We will give you regular updates throughout the entire process, and of course you are free to request an update at any time as well.
If you plan on having employees working in your commercial building over the course of the renovations, we will work with you on scheduling. For some jobs, or some parts of the job it may be possible for your employees to continue working at their current stations. For other jobs however – especially those involving more extensive construction your employees may have to be temporarily moved to another location.
The End Result
Many people do not realize what a big role building and interior design plays in a company's brand. Even if your commercial renovation is for office space which is not open to the public, it is important for your employees to have a space which is conducive to the corporate culture and to overall productivity. If in the post commercial office renovation the employees are feeling they are in a brighter, healthier comfortable and ecofriendly space they will be happier to come to the office and align better with the corporate culture and values. Many studies have been done which conclude that if the workers are happy and motivated they are more productive. This brings in the snowball effect that the business starts to increase their productivity and generate more sales. The extra sales from efficiency end up paying in a short term for the commercial renovation that Golden I completed and bring more revenue to the company.
With all these reasons in mind, if you require commercial renovation in the New York area, you cannot afford to not calling Golden I construction. Remember…Leave it to the Pros, Golden I Construction!