Here we will talk about the pros and cons of open floor plans. First of all, what is an open floor plan? An open floor plan is when you knock down walls, creating one "BIG" room instead of having 3 small rooms (kitchen, dinning room and living room).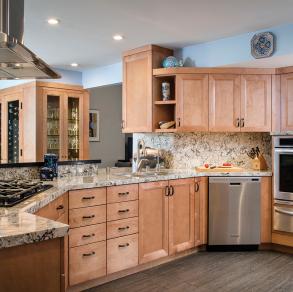 PROs:
Increase natural lights. Why do you want to pay more for electricity when you have natural sunlight?  Having large windows can maximizing this effect.
 Increase sociability among family members and guests. Think about the time when you are alone in the living room of a friend's house while your friend is cooking. Aren't you bored? Isn't it awkward being alone? What if you want to catch up with your long time no see friend? Open kitchen allows people to converse more easily without having to shout through walls.
Increase visibility in the house.  
Keeping an eye on your children and pets. It is time to make lunch/ dinner but you can't bring your kid to the kitchen. Wouldn't you want to keep an eye on your kid? What if he/she is just learning how to talk, wouldn't you want to here their first words? What if your toddler just learn to walk, would you want to respond to any falls. Well, you definitely will not hear them through walls.
Dinner is ready but your soup is not. You are so hungry but you need to keep an eye on the soup. Should I wait for the soup to be done or should I eat first? Why do you have to choose? Having an open kitchen allows you to see what goes on in other rooms
Flexibility in customizing your apartment. When the walls are down, there are more space to work with.
If you are a indecisive person, like me, you are going to have trouble styling each room. Why not have one design that represent you?
Creating an illusion. The populations in NYC exceeds 8 millions and there are limited space in housing. Having an open floor plan creates an illusion that a small apartment is looks bigger. 
CONs:
Keeping the pets away. When there is food, you pet is always going to want it. Having an open kitchen may be difficult to keep your pets away. In addition, it also makes it easier for your pet to get to the kitchen.
It can get noisy. What did you say? I cannot hear you! Without the walls to keep the noise out, you hear everything in that one big room. Your toddler is crying, your dog is howling and your spouse is watching television, can you concentrate on making make dinner?
Less Privacy. Because it is one big room, you see everything. 
Less Creativity  With the less walls you have, there can only be a limited pictures and artworks you can present.
Bad Reflection If your open room is messy, it makes the whole apartment looks messy.