If you have been thinking about remodeling your bathroom, and are looking for flooring ideas, patterns, or trends, continue reading to gain some inspiration!
As we know, the floor of a bathroom is very important, as it sets the mood for the rest of the room. Taking some time to choose the correct flooring patterns is important, as they can't be easily changed again. Here are some 2022 flooring trends that you will love: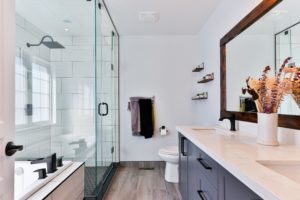 Wood Look Tile
We know how wonderful a wooden floor can look. Of course, real wood in a bathroom is a no go as the steam and water will absolutely ruin it. That's why choosing a wood-like floor would look quite nice, usually, it's hard to tell if it's even real or not.
There is a good range of colors you can choose from, from softer blond colors to dark browns.
Mosaic Tile
This is a classic trend that never really goes out of style. It has been out there for a long time, and if you want your bathroom to have a timeless look to it, this is the way to go.
You can get very creative with Mosaic tiles, as it comes in many different colors, shapes, sizes, and materials. Usually, they are placed in a specific pattern, but it's unnecessary and can be randomly placed if you'd like. Mosaic tiles can be made from ceramic to natural stone, porcelain, or glass.
Sheet Vinyl Bathroom Flooring
Another wonderful flooring for bathrooms would be Sheet Vinyl Flooring. They come in many different patterns, but the ones that look more classy would be the ones that are in mosaic or geometric patterns.
Sheet Vinyl is great as it is completely waterproof and low maintenance, it also comes in one peace so putting it into your bathroom is much easier than installing other types of flooring.
Water Proof Vinyl Flooring
These types of Vinyl floors are perfect for your bathroom! There are different options you can choose from, such as Luxury Vinyl Plank and Luxury Vinyl Tile.
The great thing about Water Proof Vinyl Flooring is how inexpensive they are. They are also quite easy to install into your bathroom and are actually quite long-lasting. There are several beautiful selections to pick.
Geometric Tile
If you want to get really creative with your bathroom flooring, you really can by using geometric tiles. This is because there is so much variation, you can choose which shape you like, what size, what color, and what texture you'd like.
Usually, the most popular colors chosen are white and black, but it doesn't have to be your pick. There are several other colors you can choose from.
If you are deciding on a bathroom renovation, choose Golden I Construction. Our professionally trained team will work together with you to create a wonderful bathroom. To contact us call 212.837.8117.