"Quality is more important than quantity. One home run is much better than two doubles." — Steve Jobs
Luxury Apartment Renovations in NYC. Remodeling & Renovation of Homes Co-ops & Townhouses. We Also Specialize in Joining & Combining Apartment Construction.
We understand you need remodeling contractors near you that work both for you and your home's benefit, and we provide every aspect of construction for apartment renovations. This ranges from mere design to full contracting of kitchens and bathroom renovation.
We are also a Design / Build Firm in NYC
We are very familiar with the unique challenges of providing luxury renovations in Manhattan. We start with planning & designing to your specifications, and this is part of what ranks us among the best residential design and build firms in NYC.
High End - Custom and Luxury Renovation Contractor
Our construction services are second to none in the industry, as noted by our satisfied clients whose assignments represent approximately 60% of Golden I Construction's annual work. In NYC, we are proud to possess a high percentage of gut renovations.
Work with a luxury renovation contractor

Providing Custom, Luxury Renovations in NYC for Co-ops, Apartments, Townhouses, Lofts, Homes and more.
Get A Quote
We Specialize In Entire Gut Renovations
Testimonials
My wife and I had the fortunate pleasure of working with Golden I Construction Inc. on two separate projects on two separate occasions – a complete gut renovation of our kitchen and a complete gut renovation of our bathroom. Despite the horror stories we heard regarding NYC Apartment remodels (we also live in a PreWar Coop) these projects were some of the smoothest, cleanest, and on-time than any others we had heard or read about from others. The team was highly professional, responsive, and did top quality work. I rate them on the three criteria detailed below: Quality, Professionalism, Cleanliness.
Tony did a great job with a complicated gut renovation of an apartment in NYC. The work consisted of the reconfiguration of bathrooms and the Kitchen, removing walls to open spaces up, the creation of soffits for mechanical ductwork and lighting systems. They were easy to work with and always available. You really could not ask for more. I have worked with over 200 contractors, he is one of a very few that I recommend. Most do good work but getting to the finish line is very painful. He did great work and was fairly painless for considering what was accomplished.
We hired Golden I Construction Inc. to make and install custom bi-fold closet doors and custom shelving in 2 of our closets in our small apartment in Brooklyn. They were very efficient, professional, extremely polite and very clean. They protected the rest of our apartment and cleaned up after every day of work so it felt like they were never there! The detail of their work was very impressive. Months later when we had an issue with one of the doors, they were very responsive in coming back to fix the issues with no extra charge. I highly recommend this team!
My design firm has hired Golden I Construction Inc. for dozens of projects over a period of about 10 years. As the most reliable, high-quality professional we ever worked with, Tony (the owner) could always be counted on to respect our budget, keep the schedule, and finish every single renovation to the complete satisfaction of every client. His experience in doing major renovations, problem-solving skills, and great attitude are valuable assets on every project.
I completed a full gut renovation of my open kitchen and living room with immaculately assembled cabinetry, backsplash, wall-mounted shelving with puck lighting and furniture pieces. Tony and his team from Golden I Construction Inc. were absolutely fantastic, working with incredible skill and precision (cutting and tailoring high-end finished italian pieces) but also with patience and professionalism that put my entire family at ease. My kids love them and we would highly recommend them to anyone who is looking for perfection!
It is with great confidence, as well as with my gratitude, that I am writing a review on behalf of 'Golden I Construction Inc.' ( Tony). While finances were of great concern for me in doing a renovation, I know that price alone should not dictate a decision as you sometimes get what you pay for. I shared my concerns with Tony. I appreciated his ability to hear my concerns, to address my concerns and with that along with his confidence, I felt comfortable hiring him to do this job. Along with his talented crew, after gutting our kitchen to the bare walls and floor and opening up the wall in to the livingroom, Tony did an amazing job designing and building our new kitchen along with renovating other area's of our apartment. Along with the design work, there was a lot of plumbing and electrical work involved as well.
I feel extremely fortunate to have met Tony and having him as my contractor was truly a gift I am most grateful for. He is honest, he has integrity and at any given time I would be confident and proud to recommend him and his company.
Thinking of combining an apartment in NYC?
We are a contractor that thinks outside the box, along with our design firm, we provide proper planning and permit pulling for someone who wishes to combine two apartments into one in NYC whether it is a condo, coop, townhouse or any other residential type we can help join apartments that no one will ever notice it was 2 apartments before coming together as one.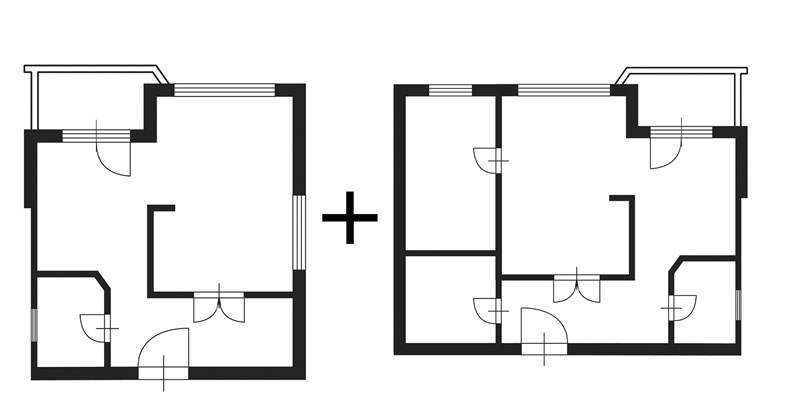 Kitchen Cabinet Materials
Oak
Cherry
Maple
Alder
Mahogany
Walnut
Birch
Hickory
Sapele
Wenge
Zebrawood
Exotic Wood
Birdseye
Veneer
Solid Wood
Plywood
Exotic Wood
Quarter Sawn
Rift Sawn
Thermofoil
Acrylic
Asko
BOSCH
BERTAZZONI
Blanco
Caloric
DACOR
DCS
Electrolux
Frigidare
Fisher & Paykel
GAGGENAU
GE Profile
GE MONOGRAM
Jenn-Air
KitchenAid
LG
LIEBHERR
MIELE
Samsung
Smeg
SUB-ZERO
THERMADOR
VIKING
Whirlpool
WOLF
Renovation Styles For All
MODERN
CONTEMPORARY
TRADITIONAL
TRANSITIONAL
EUROPEAN
WHITE
INSET
BEADED INSET
Distressed
Stainless Steel
Framed
Frameless
Overlay
Full Overlay
Flat
Slab
Shaker
Mullion
Heritage
Vintage
Country
Tuscan
Retro
Rustic
Gourmet
Craftsman
Grey / Gray
Glass
Metal