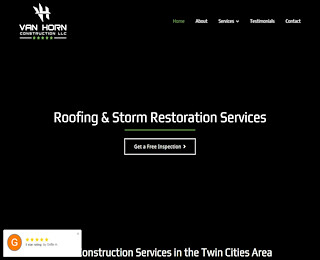 Siding Contractor in Minneapolis
If you need your siding replaced and live in the Minneapolis, Saint Paul and surrounding areas, give Van Horn Construction LLC a call. We are your local siding contractor in Minneapolis.
How Do I Know If My Minneapolis Siding Needs Replaced?
Are you tired of the color? Is it outdated? Is it damaged? These could be a good clue that it might be time to invest in new siding. Check for the following items:
Hail Damage: Is your siding chipped, dented or cracked?
Faded Siding: When your siding begins to fade, it is not as strong as it once was.
Loose Siding: There are several reasons your siding might loosen, including wind damage, settling of your home, and even improper installation.
Cracked Siding: Cracked siding is serious. It allows water to penetrate your underlayment and over time can cause serious problems.
Dry Rot: Dry rot is ugly and weakens the siding.
New Addition: You will want to consult with a professional to see if they can side your new addition or if your entire house needs re-sided.
Wildlife Damage: Insects, squirrels, and even woodpeckers can wreak havoc with your siding.
One of the easiest ways to find out if your home needs new siding is to call a siding contractor in Minneapolis. Have a professional come out and give your siding a free inspection. They will tell you what condition your siding is in, and if you need maintenance or if new siding is needed. A trained representative will talk with you about your options and provide you with a recommendation.
What Kind of Siding Should I Choose?
There are several different types of siding. Ask your siding contractor in Minneapolis what she/he recommends. Here is a list of different types:
Brick Siding
Engineered Wood Siding
Fiber-Cement Siding
Stone Siding
Metal Siding
Stucco Siding
Vinyl Siding
Wood Siding
Each type of siding has its good and bad qualities. You need to consider which option is best for the exterior of your home. Consider the cost, energy efficiency, maintenance level, and aesthetics of the siding you choose. It is often smart to think about your area and climate too.
How Do I Find The Right Siding Contractor in Minneapolis?
Make sure the siding contractor you choose is licensed and has all the proper insurance.
Check the business out with the BBB. What is their rating? Complaints?
Ask friends, family, and coworkers about siding contractors and if they have used someone in the past and how they liked the work.
Get some estimates from different companies. By doing this, you can meet the contractor.
Go check out some projects the contractor has completed. What did you think? How was the job?
Cheaper is not always better. Sometimes you get just what you pay for.
What type of siding materials does your contractor work with and what kind of guarantee do you get?
 
Give Van Horn Construction LLC in Plymouth, MN a call today. The company was founded in 2018 by Silas Van Horn. It has a BBB rating of A+ with no complaints to date.
Siding Contractor Minneapolis
Van Horn Construction LLC
612-756-7080
2500 E. Medicine Lake Blvd
Plymouth
MN
55441
View Larger Map