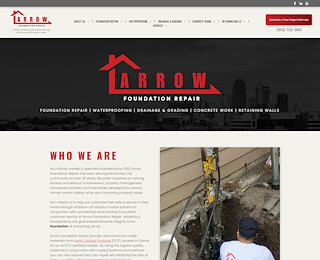 Are you looking for services for drainage in Kansas City? If so, you should turn to us at Arrow Foundation Repair. Over time, rainwater can naturally cause soil erosion, which happens no matter what you try to do to avoid it. Rainwater can create problems with drainage, and it is easy to get frustrated with the whole mess. It can be overwhelming trying to figure out what to do about these issues. If you need a helping hand addressing drainage in your neighborhood, you should contact us at Arrow Foundation Repair.
We can provide foundation inspections and inspections for drainage problems. Our staff is always willing to go the extra mile for our clients. We believe in putting the needs of our customers above all else, which is what allows us to outshine our competition. Don't delay in reaching out to learn how we can serve your unique needs, no matter what they are.
Drainage in Kansas City
If you want dry property that is well drained, you need to turn to us at Arrow Foundation Repair for our solutions. We are constantly thinking outside of the box to create innovative foundation and drainage solutions that are cost friendly and effective. Our team can guide you through our service menu to help you find what is right for you. You can rest easy when you put your trust in our reliable company, as we are a cornerstone in our community.
No other service provider can compete with our commitment to excellence and dedication to customer care. We want nothing more than to please you and keep your home safe and secure. Don't hire a newbie company because they could make mistakes that could end up being very costly for you. Reach out to us now to learn more about our drainage services.
Foundations and Concrete Work
At Arrow Foundation Repair, we can repair the foundation of your home if it has problems. We also can help with concrete work, including patios, decks, and everything else you can think of. Our company prides itself on offering fair and reasonable rates because we want to put our customers above all else. Our technicians have a long history of working in the foundation repair industry, and they will treat you with consideration and respect. We will show up on time and work diligently until the job is done. We can make old concrete look new again and keep your home in good shape. It is easy to see that our company is the best choice to turn to for foundation repair, concrete work, and drainage services.
Schedule an Appointment Today
You should schedule an appointment for our stellar services today, so you don't miss your chance to experience our awesome capabilities. We want to provide our menu of services to as many clients as possible. We are constantly expanding our service area to include more local residents and make our services more accessible. Our rates always remain the same, even as our company continues to expand. 
Drainage Kansas City
Arrow Foundation Repair
9137229011
5010 Hadley St
Overland Park
KS
66203
View Larger Map